On July 14
th
, we visited the
National Art Library
, which is housed in the
Victoria and Albert Museum
(V & A museum). We were given a tour of the library and then were shown many of the library's treasures. The National Art Library predates the V&A, beginning first in Marlboro House in 1837, then moving to Somerset House, and then finally in 1884 moving into the V&A museum. The library collects materials and documents about art and artists from all over the world, as well as materials on the history of the book, book arts, and theatre.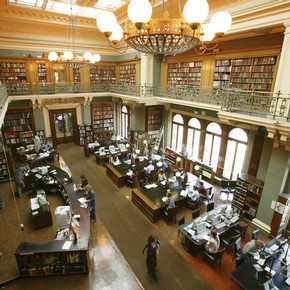 The Reading Room: http://media.vam.ac.uk/vamembed/media/versions/uploads/new_images/2006ab9999_nal_reading_room_290x290.jpg
The library is very accessible, any member of the public can use the materials for free; users must register for a reader's card. It has closed stacks, so readers must request materials to be brought to them by staff members, which they retrieve every 1 1/2 hours. The library contains 8000 volumes, 2000 periodicals, and contains textiles, furniture, and other artifacts as well. They have many trade catalogues and reports from auction houses and galleries, which researchers often use to trace the ownership history of items. Their users are mostly postgraduate researchers and academics doing research for dissertations and theses, as well as employees of auction houses and galleries doing research for sales, and the curators of the V&A use the library to do research for their exhibitions. The library also collects files on artists, which include newspaper clippings, invitations to artists' exhibitions, and other materials on artists' lives.
While we were there, we were also fortunate to see some of the special collections that the National Art Library has—we were able to see and look through a rare facsimile of the Leonardo DaVinci codices, an illuminated manuscript from the 15th century, an artists' book made completely of rabbit fur, the manuscript of David Copperfield by Charles Dickens, and a book of John James Audubon's paintings. The materials were very cool to be able to see close up and to flip through—it was nice that the library allowed us to do that, as these materials are very rare and priceless. We asked if the library was thinking of digitizing many of these rare materials, as the British Library and other institutions with similarly old and valuable material have done in order to still allow people access but be better able to preserve materials. The librarian who showed these materials to us said that there was no funding for digitization for now, but that they would like to digitize them in the future if they do get funding.
I thought that the library was very accessible—you only needed a photo ID and proof of address and anyone from around the world can get a reader's card. Most of their materials are in their
online catalogue
and can be readily retrieved. Their collections were very eclectic but interesting—they have books on literature, history, science, theatre, art, and special collections that span those categories as well. If I were a graduate student in any of the arts, this would be one of the first places to look for research. The librarians were very welcoming and trusting, allowing us to see many of their rare collections. I would love to explore their catalogue and see what other sorts of unexpected treasures the National Art Library might have.